Item details
Home > Medical > Medical History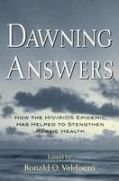 DAWNING ANSWERS: How the HIV/AIDS Epidemic Has Helped to Strengthen Public Health
Author/Editor: VALDISERRI
Published: 01/03/03
Published by: OXFORD UNIVERSITY PRESS
ISBN: 9780195147407
Media: hard cover
Edition:
Dawning Answers charts the legacy of the global HIV/AIDS epidemic to the theory and practice of public health. Richly detailed chapters describe how advances in techniques and startegies to monitor health events, develop public policy, set funding priorities, mobilize communities, support the adoption of safer behaviors, ensure access to needed prevention and treatment services, and involve affected populations in public health research, intervention, and evaluation, all owe a substantial debt to those who have adapted, redefined, and extended these techniques and startegies in response to HIV/AIDS. The book offers thoughtful analyses from experts in various fields and disciplines. Although most of the examples reflect the U.S. experience, relevant examples from other countries are cited, and an entire chapter is devoted to the evolving impact of HIV/AIDS on global health and development. Devastating as the losses from AIDS have been, the many public health lessons learned as a result of the epidemic have positively influenced other domains of public health and will continue to exert an influence on new approaches to health assessment, policy development, and assurance.