Item details
Home > Medical > Medical History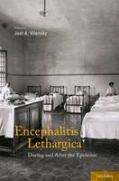 ENCEPHALITIS LETHARGICA: During and After the Epidemic
Author/Editor: VILENSKY
Published: 06/01/11
Published by: OXFORD UNIVERSITY PRESS
ISBN: 9780195378306
Media: hard cover
Edition:
Encephalitis Lethargica: During and After the Epidemic is akin to a detective novel about a major medical mystery that remains unsolved. During the 1920s and 1930s a strange, very polymorphic condition affected much of the world although not at the same time everywhere and certainly not with the same symptoms. This condition, encephalitis lethargica, could cause death in a short period, or a Rip Van Winkle type of sleep that might last days, weeks or months, but could also, surprisingly, cause insomnia. Its symptoms were thought to encompass almost anything imaginable, which made its diagnosis exceedingly difficult, to the point where its existence as a distinct neurologic entity could be questioned. Furthermore, even in those patients who appeared to recover from the disease, there was a large risk that they would subsequently develop a more chronic and devastating sequel believed to follow the disease in up to 80% of its victims, postencephalitic parkinsonism. This condition became much better known than its antecedent because of the Oliver Sacks' book, Awakenings, and the subsequent 1990 movie of the same name. Encephalitis Lethargica: During and After the Epidemic thoroughly describes the disease during the epidemic period and also details all the cases that have been reported since that time. Using language that the non-neurologist can easily understand, the book identifies the core features of this disease and tries to identify its cause. Encephalitis Lethargica: During and After the Epidemic also presents a thorough analysis of postencephalitic parkinsonism and its relationship to encephalitic lethargica. Whether this book solves the mystery of encephalitis lethargica remains to be determined, but regardless, as a result of this book, the number of clues available have been greatly increased. Accordingly, should encephalitis lethargica reappear, contemporary physicians will be prepared to diagnose and treat it because of the information provided in the book.