Item details
Home > Medical > Medical History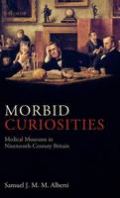 MORBID CURIOSITIES
Author/Editor: ALBERTI
Published: 07/04/11
Published by: OXFORD UNIVERSITY PRESS
ISBN: 9780199584581
Media: hard cover
Edition:
In the first comprehensive study of nineteenth-century medical museums, Morbid Curiosities traces the afterlives of diseased body parts. It asks how they came to be in museums, what happened to them there, and who used them. This book is concerned with the macabre work of pathologists as they dismembered corpses and preserved them: transforming bodies into material culture. The fragmented body parts followed complex paths - harvested from hospital wards, given to one of many prestigious institutions, or dispersed at auction. Human remains acquired new meanings as they were exchanged and were then reintegrated into museums as physical maps of disease. On shelves curators juxtaposed organic remains with paintings, photographs, and models, and rendered them legible with extensive catalogues that were intended to standardize the museum experience. And yet visitors refused to be policed, responding equally with wonder and disgust. Morbid Curiosities is a history of the material culture of medical knowledge in the age of museums.