Item details
Home > Medical > Medical History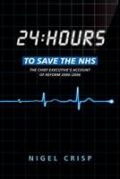 24 HOURS TO SAVE THE NHS: The Chief Executive's Account of Reform 2000 to 2006
Author/Editor: CRISP
Published: 01/09/11
Published by: OXFORD UNIVERSITY PRESS
ISBN: 9780199639953
Media: paper back
Edition:
This is a unique book, written by the former Chief Executive of the NHS and Permanent Secretary of the UK Department of Health from 2000 to 2006 - the only person to have held both roles. In this book, Lord Crisp addresses is the struggle to balance the desire for equity and social solidarity on the one hand and the drive for efficiency and markets on the other. He discusses the challenge to reconceptualise our health systems as being about society - health, education, work and leisure - and about helping citizens achieve greater independence and fulfilment as well as health. He suggests that the reform needs to be on three fronts at the same time: re-designing services so they operate better; reforming the whole system and its organisation and incentives; and, hardest of all, restructuring the workforce and its technology. The real life experiences discussed in this book provide lessons for the current reforms in the NHS and for health systems everywhere which are planning improvements and reform. The author draws these lessons out for the NHS in England, low and middle income countries which are engaged in "health systems strengthening" and for high income countries which are planning or undergoing reforms.