Item details
Home > > Ethics & Law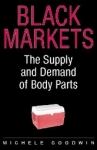 BLACK MARKETS Supply and Demand of Body Parts
Author/Editor: GOODWIN
Published: 19/04/06
Published by: CAMBRIDGE UNIVERSITY PRESS
ISBN: 9780521852807
Media: hard cover
Edition:
This book offers a contemporary view of organ and tissue supply and demand. It is the first book of its kind to fully engage race in the debate about organ procurement. The book explores the legal, racial, and social nuances of institutionalized procurement schemes, suggesting that the best alternative model for procurement is a market approach. Black Markets contends that exclusive reliance on the present altruistic tissue and organ procurement processes is not only rife with problems, but also improvident.