Item details
Home > Basic Sciences > Cellular & Molecular Biology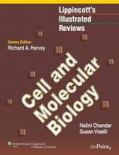 LIPPINCOTTS ILLUSTRATED REVIEWS: CELL AND MOLECULAR BIOLOGY
Author/Editor: CHANDAR & VISELLI
Published: 26/01/10
Published by: LIPPINCOTT WILLIAMS & WILKINS
ISBN: 9780781792103
Media: paper back
Edition:
"Lippincott's Illustrated Reviews: Cell and Molecular Biology" offers a highly visual presentation of essential cell and molecular biology, focusing on topics related to human health and disease. This new addition to the internationally best-selling "Lippincott's Illustrated Reviews Series" includes all the popular features of the series: an abundance of full-colour annotated illustrations, expanded outline format, chapter summaries, review questions, and case studies that link basic science to real-life clinical situations. The book can be used as a review text for a stand-alone cell biology course in medical, health professions, and upper-level undergraduate programs, or in conjunction with "Lippincott's Illustrated Reviews: Biochemistry" for integrated courses. A companion Website features the fully searchable online text, an interactive Question Bank for students, and an Image Bank for instructors to create PowerPoint presentations.