Item details
Home > Physical Therapies > Speech Therapy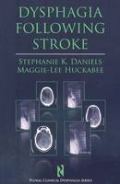 DYSPHAGIA FOLLOWING STROKE
Author/Editor: DANIELS HUCKABEE
Published: 01/02/08
Published by: PLURAL PUBLISHING
ISBN: 9781597561969
Media: paper back
Edition:
After a stroke, one of the basic needs for a patient is to be able to swallow in order to eat and then to have the motor skills to resume speaking. Daniels (speech pathology, Baylor School of Medicine) and Huckabee (communication disorders, University of Canterbury, NZ) give therapists and clinicians a thorough training manual covering assessment, examinations and treatment options. While intended for professionals, the writing is clear enough for concerned family members and friends of the patient to find it helpful.