Item details
Home > Complementary Medicine > Indian Medicine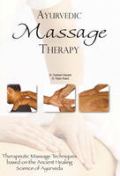 AYURVEDIC MASSAGE THERAPY
Author/Editor: RAWAT
Published: 05/02/10
Published by: BRUMBY SUNSTATE
ISBN: 9780940985995
Media: paper back
Edition:
The readers of this text will gain a background in ayurvedic theory, as well as applied therapy. Ayurvedic massage can be seen as a therapeutic tool in its own right as well as a predecessor to panchakarma treatment. For the first time the important concept of marma massage has been explained and described. This technique is extremely valuable and is becoming quite popular among practitioners of ayurveda both in India and abroad.